Aug. 4, 2012
Black Women's Hair & Gabby Douglas: Standing Straight in a Crooked Room via New Model Minority.com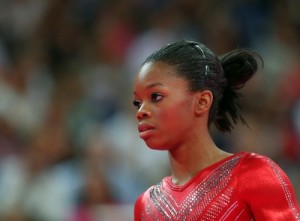 In the book, Sister Citizen, Dr. Melissa Harris Perry argues that many Black women in the US find themselves standing straight in a crooked room because of how we experience both racism and sexism. According to Harris-Perry, Black women are standing straight in a crooked room
when they are confronting race and gender stereotypes, black women are standing in a crooked room, and they have to figure out which way is up. Bombarded with warped images of their humanity, some black women tilt and bend themselves to fit the distortion…To understand why some Black women's public actions and political strategies sometimes seem titled in ways that accommodate  the degrading stereotypes about them, it is important to appreciate the structural constraints that influence their behavior.
This is immediately what came to mind when I saw the conversations about Gabby's hair, conversations, many initiated by Black women about who thought it wasn't straight enough.
No Gabby's hair does not look like the Black women on Love and Hip Hop Atlanta, and that is fine. The women on LHHA stay fried died and laid to the side and Gabby's pony tail is the pony tail of a young Black woman Olympian. Full stop.